Healing Jewels:
I also will always have beautiful, meaningful "Healing Jewels" pieces which are just beautiful, sparkly and contain semi-precious stones that hold special meaning, each unique and powerful. Every piece has a handwritten description card that lists the stones and their meanings. These are wonderful gifts and I also make these on commission.
---
Illustrated Jewelry:
I LOVE making shrink film jewelry. I can draw my drawings and wear them! You, too, can wear them! I have been making lots of veggie jewelry that have been a huge hit and during the Whiskey Off Road, a yearly mountain bike race here in Prescott, I was super inspired and excited to make adorable bike earrings and am cranking out a few new "fused" shrink film (layers!) bike "scenes". I have also done this with a few custom pieces, including a rooster and a mini camper! Watch for more of these!!
More Jewelry:
I am making beautiful cuff bracelets that are hand formed, wood burned, painted and sometimes have some crafty shaping going on. I am excited to get more of these out there!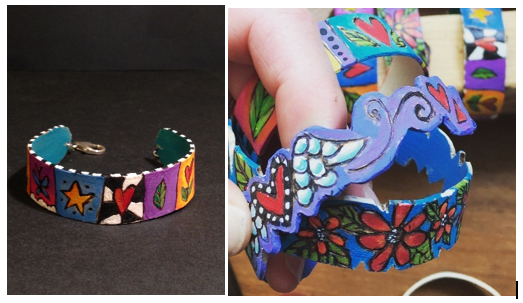 And…
I am still making cute pendants, earrings and bracelets with various types of wood slices, from scrub oak, to mesquite. They are cute, simple and colorful. In addition, I am making other types of wood art jewelry by first cutting the shapes, then wood burning, then painting and sealing. They are nature inspired, but there are also always hearts!